Our giving back program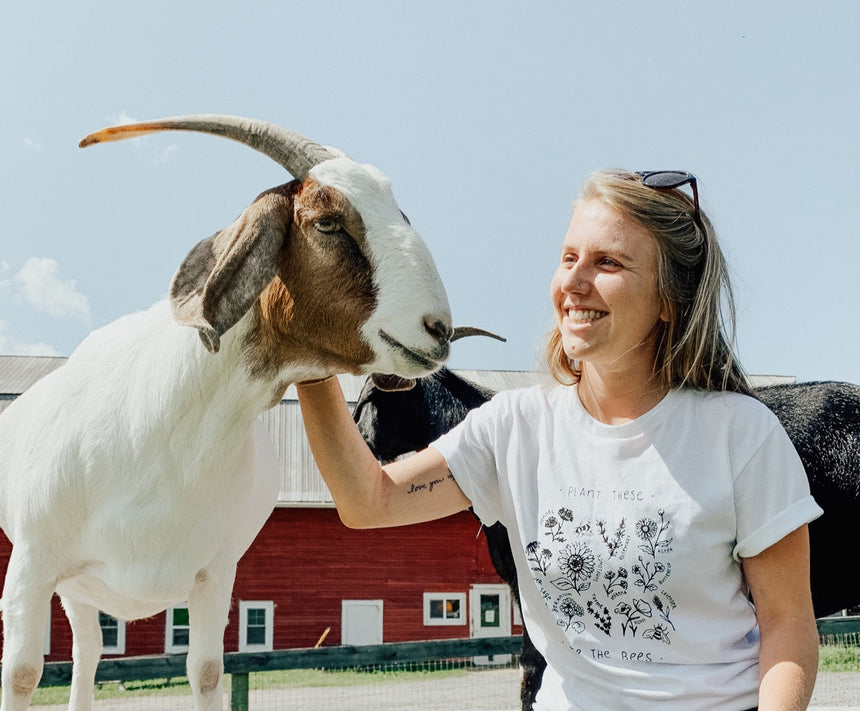 WE GIVE BACK 10% OF OUR PROFITS TO CAUSES THAT ALIGN WITH OUR MISSION, LIKE ANIMAL RESCUES AND ENVIRONMENTAL ORGANIZATIONS. SO FAR, WE'VE DONATED $72,000 AND 22,537 TEES TO NONPROFIT ORGANIZATIONS.
Read on to learn more about who we've helped, and how!
Our Giving Partners
Sale Ranch Sanctuary
Sale Ranch Sanctuary
Run by passionate animal lovers, Jen and Dave Sale, Sale Ranch Animal Sanctuary gives a loving home to 72 rescued farm animals, including pigs, goats, sheep, donkeys, and chickens. They also provide refuge and hospice to senior horses and animals with special needs. Their 10 acre property is completely off the grid, operating solely through solar power!
HOW WE HELPED
Our donation helped Sale Ranch purchase a new tractor, which they needed to assist in their daily operations, like moving feed and manure, and assisting in animal care. In particular, they needed the tractor to care for their three blind animals: a cow named Hope, a dog named Duke, and a horse named Ray Charles.
The sanctuary is located in Southern California, where droughts are common and sudden rain storms cause parched soil to erode dramatically. This creates dangerous conditions that could cause farm animals (especially those that can't see) to lose their footing and be seriously injured.
Before they purchased the tractor, the Sale Ranch team had to level the earth using shovels!
To learn more about Sale Ranch's amazing work and inspiring animals, check out our blog.
"I want to thank the entire WC team for your partnership and the unbelievable campaign you all did to bring attention to our life changing work. I am so truly grateful for the opportunity and your continued support. I am also super excited as we received a ton of messages from our followers who not only placed orders but fell in love with your mission and clothing lines."
Jen Sale, Founder and Executive Director, Sale Ranch Animal Sanctuary
Rancho Relaxo
Rancho Relaxo
Rancho Relaxo's president and founder, Caitlin Cimini, is allergic to basically every animal. But that didn't stop her from starting a non-profit rescue farm in 2012.
Now a fully functioning animal advocacy non-profit in New Jersey, Rancho Relaxo is home to cats, chickens, cows, dogs, horses, goats, pigs, sheep, and turkeys. They rescue between 100 - 300 animals every year.
HOW WE HELPED
Rancho Relaxo used our donation to assist in their daily operations. This includes providing medication to animals that need it, feeding animals, cleaning and maintaining pens and barns, fixing fences, administering physical therapy, and conducting frontline rescue missions.
In 2019 we made a second donation that Rancho Relaxo put toward the cost of building a pig barn on new property they recently purchased.
Visit our blog to learn more about how Rancho Relaxo is making a real difference in animals' lives.
"Running a nonprofit is difficult — especially when the nonprofit provides care for over 200 rescued farmed animals. One of the most challenging aspects of making sure everything goes according to plan is fundraising. Wholesome Culture has helped Rancho Relaxo build a barn and provide for the animals who will be living in it. They constantly send love and support outside of their generous donations as well, which makes us feel like one big family."
Caitlin Cimini, President and Founder, Rancho Relaxo
Past Partners
Woodstock Farm Sanctuary
Woodstock Farm Sanctuary
Located in High Falls, NY, Woodstock Farm Sanctuary was founded in 2004 by Jenny Brown and Doug Abel. Their mission is to rescue farmed animals, connect animals and people to advance veganism, and advocate for animal rights.
They are now home to a cat, chickens, cows, ducks, goats, a llama, pigs, rabbits, sheep, and turkeys.
HOW WE HELPED
Woodstock used our donation to provide food, shelter (including a new pig barn!), and medical attention to their 380 rescued animals - including specialized care for a goat named Oreo.
Oreo had surgery to install an emergency valve to release air trapped in her stomach as a result of a tumour. Our donation helped pay for a custom 3D printed permanent valve. This cutting-edge procedure gives Oreo the chance at an extended life with her closest goat companion, Estella, whom she was rescued with.
For more about Woodstock's life saving work, and how they're increasing awareness of animal rights, please check out our blog.
"It's been such a pleasure to partner with Wholesome Culture in support of the work we do here at Woodstock Sanctuary. Wholesome Culture is a brand that aligns with our mission to advocate for animal rights and the planet – not only do they do great work in giving back to the rescued farmed animal residents who call Woodstock Sanctuary home, we love their clothing!"
Lizz DeFeo, Marketing and Communications Director
The Riley Farm Rescue
The Riley Farm Rescue
In 2015, Marla Riley, a nurse and animal-lover, decided to get some pet chickens. She quickly realized they had unique personalities and complex emotions. Not long after, she went to an animal auction. She went vegan that day and began rescuing animals in the summer of 2017.
Since then, she's rescued more than 100 animals, including chickens, ducks, geese, turkeys, goats, guinea pigs, sheep, peacocks, rabbits, pigeons, and a mini horse.
HOW WE HELPED
Our donation went toward Riley Farm's downpayment for a farm in Connecticut. This additional land will allow them to rescue even more animals!
Check out our blog to learn more about Riley Farm Rescue's life saving work and animal rights awareness efforts.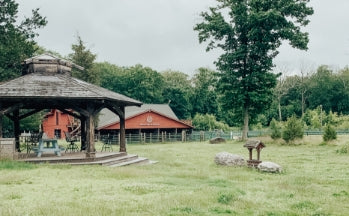 "Partnering with Wholesome Culture has been a highlight for the sanctuary. To work alongside a company of like minded individuals has been an engaging experience and we're so grateful for their support."
Marla Riley, President and Founder, The Riley Farm Rescue
Fundraising promotions
We regularly run promotional campaigns where a portion of profits from the sale of a certain product or collection is donated to a non-profit organization.
Here's a quick look at some of the organizations we've supported in this manner:
We're always looking for new partnerships. If you know of any other charitable organizations that share our values and need support, please ask them to get in touch with us by email at hello@wholesomeculture.com.
For more about how we're living our values, please check out